Which safety features are available with the Nissan Safety Shield package?
By Product Expert | Posted in Performance & Safety on Tuesday, October 15th, 2019 at 5:21 pm

Driver Assistance Features of Nissan Safety Shield-Monitor
Nissan vehicles are built to be innovative and adaptable, from the second you step in your vehicle until you reach your destination. Along the way, you're bound to encounter some scary situations, which can pose harm to your vehicle or – worse – yourself if you're not careful. That's why Nissan has introduced its Safety Shield technology to all new models, which offers some of the top security features in the business to help you monitor and react to any situation. 
Come with Glendale Nissan today as we show you all the available driver assistance features of Nissan Safety Shield – Monitor. There are a lot of components that go into making your ride safer than ever! 
---
Blind Spot Warning
One of the biggest hazards on the road is not being able to detect when another vehicle is coming for your blind spot, so your new Nissan has sensors that can alert you when this happens. You'll either see them in your door pillar, or on your vehicle's Advanced Drive-Assist Display. 
Predictive Forward Collision Warning
Your Nissan vehicle is outfitted with a front-facing sensor that can react to vehicles ahead of you that might be braking abruptly. It only takes a split-second for your brakes to be applied independently should this happen, greatly reducing the threat of a collision. 
Rear Cross Traffic Alert
Backing out of a parking space can cause trouble, as it's sometimes hard to see vehicles zipping past you. That's why new Nissan models have an available Rear Cross Traffic Alert, which can detect and warn you if anyone is coming from either side of your vehicle. 
Intelligent Cruise Control
Most traditional cruise control systems are only in place to keep you moving at a set speed, but Nissan's Intelligent Cruise Control takes this one step further. It will help you move at the same speed and keep a set distance between you and the car in front of you! 
Driver Attention Alert
Driving fatigued is bad news, as an estimated 328,000 automobile accidents take place every year simply because a tired driver made a wrong decision. If your Nissan notices any unusual steering activity, it'll chime at you and show you a coffee cup icon to encourage you to stop and take a rest for a while.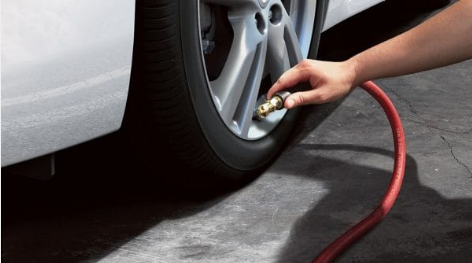 Tire Pressure Monitoring System
A big factor behind your Nissan running correctly is making sure that its tires are fully inflated, which is why new Nissan models come with a built-in Tire Pressure Monitoring System (TPMS). It can detect when your tires are running a little too low, and tell you to get them filled back up as soon as you can. 
Front and Rear Parking Sonars
When you're backing up into a tight parking space, any help you can get is appreciated. Your Nissan model will have parking sensors that beep with increased intensity the closer you get to another vehicle, helping you keep safe as you maneuver. 
Rearview Monitor
Most new Nissan vehicles have a camera installed on their rear trunks or lift-gates that can give you a full, 180-degree view of what's behind you as you back up. This is certainly a big plus when you're parallel parking, or anything else that demands full concentration. 
---
More Nissan Safety Info: How does the Nissan Rear Door Alert notify drivers?
---