Are there accessories I can add to my 2020 Nissan Armada?
By Product Expert | Posted in Model Information, Nissan Armada on Monday, January 20th, 2020 at 2:05 pm
Available accessories on the 2020 Nissan Armada
There are different ways to enhance the 2020 Nissan Armada whether you choose between the different trim levels or color options. Another way to customize your 2020 Nissan Armada is by adding accessories to it. All accessories available to add to your 2020 Nissan Armada are custom-fit and custom-designed. Customers have a three-year warranty and can be financed by the dealership at the time of purchase. Keep reading to learn more about the 2020 Nissan Armada accessory options.
Exterior accessories
Moonroof wind deflector
Owners of the Armada can add the Moonroof wind deflector to help reduce wind turbulence and noise.
Hatch tent
The Hatch tent unfolds easily to a 10' by 10' tent. It has two large entrance doors and a large mesh window. The tent can connect to your Armada or be a stand-alone ground tent.
Exterior ground lighting
For a sense of security, the exterior ground lighting lights up the area beneath and around your vehicle. It turns on when you press the key fob.
Interior accessories
Illuminated kick plates
To protect your entrance and front sills, the stainless-steel inserts are contoured to match door openings.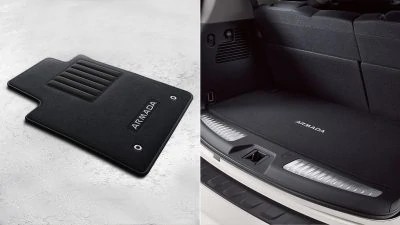 Carpeted cargo area protector and floor mats (six-piece set)
The Carpeted Cargo Area Protectors and Floor Mats are all custom fit with the driver's mat secured with a grommet hold/positioning hook system.
Cargo package
With the best of all the accessory options, the Cargo package includes a Cargo Net, All-Season Cargo Area Protector and First-aid Kit which includes basic first-aid supplies.
Affiliated accessories
Yakima Frontloader
This bike mount is compatible with the Genuine Nissan Accessory Roof Rail Crossbars. It fits up to 20-inch and 29-inch wheels with widths up to 3-inches.
Yakima Holdup
This is a hitch-mounted rack tilts away to allow for vehicle access. It holds up to two bikes and secures them so there won't be any swaying or bike-to-bike contact.
Yakima Skybox 16
This sleek, aerodynamic box can hold gear for up to three travelers. It can fit snowboards and skis. Locks are included.
---
Read more about the Nissan Armada: What are some of the connectivity features in the 2020 Nissan Armada?
---
Check out our online inventory and schedule a test drive
Scroll through our inventory to see which Armada models we have available. Once you have found a few selections, contact us to schedule a test drive.
---
Read more about the Armada: What are some of the 2020 Nissan Pathfinder features to look forward to?
---